Run Washington's story on our facility. You can find the original article

here

.
NOVEMBER 27, 2019 by SARAH BETH HENSLEY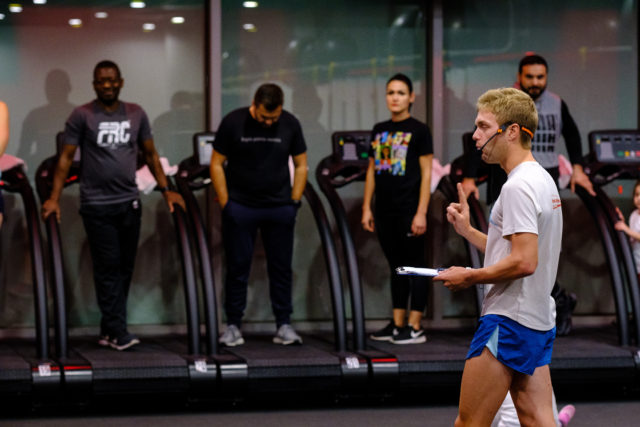 Formula Running Center class participants listen for instructions. Photo: Dustin Whitlow
"Rob McAnnally has checked some running feats off his to-do list over the last few years: he's run a few half marathons and 10-mile races. But this 49-year-old Arlington resident is starting to get hungry for more. He's looking to be more a more efficient and effective runner and shave off some time during his races. He also wants to run his first marathon when he turns 50 next year.
To help in his quest, McAnnally turned to Formula Running Center, a new facility geared toward helping runners excel, recover and learn with guidance from a staff of runners, physical therapists, nutritionists and coaches.
"I think [Formula Running Center] can help me learn from professionals and coaches that really know running and can help me achieve even more than I could on my own," said McAnnally, who has already attended a running class and signed up for a membership at the facility.
Formula Running Center, or FRC, opened in Clarendon earlier this month, billing itself as "a complete training experience for runners and endurance athletes."
"There's not another facility that is built out for runners like this that exists," said FRC Owner and Co-founder Chris Hoffman.
The 5,000 square-foot business at 3101 Wilson Blvd. offers equipment and resources for training, recovery, assessment and education, aiming to be a one-stop-shop for all runners, no matter their skill level, Hoffman said.
"Whether you've never run a day in your life and you're just looking to do your first mile or whether you've done ultramarathons, we think that this facility can be very beneficial to everybody — and that's really our goal, to be able to help out as many people as possible in a variety of different ways."
FRC has group treadmill training classes. Classes are focused on running, although some include full-body conditioning tailored for runners.
Twenty-four treadmills line the walls of a studio, which they share with more than a dozen workout stations for the "tread and train" classes.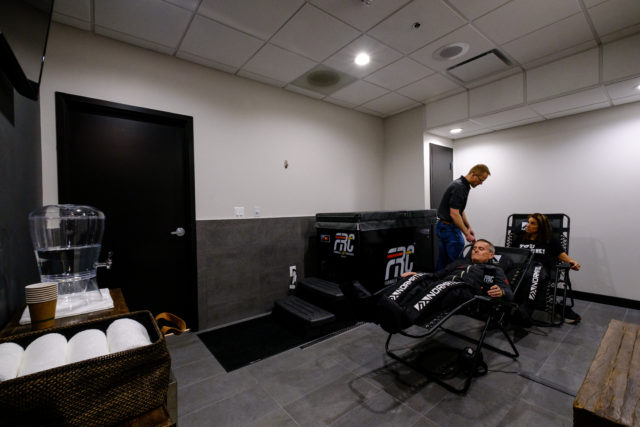 Formula Running Center clients take in their recovery boot sessions. Photo: Dustin Whitlow
The business also addresses recovery using cryotherapy, a sauna and a cold-water soaking tub and it employs a sports massage therapist. A yoga studio plays host to classes tailored for runners.
"Everyone is a little bit different and gravitates toward different things and we can help point them in the right direction, but people want to use different recovery services so we wanted to have a full menu of recovery services that people could tap into to hopefully speed up recovery, keep them injury free and continuing to train," Hoffman said.
A physical therapy practice offers gait analysis and VO2 Max measurements and a registered dietician can offer insight on nutrition.
Runners who may want more information about things like running form or race-day nutrition may benefit from one of FRC's seminars or workshops.
Hoffman aims to combine those elements to rival what professional athletics facilties and collegiate athletic departments offer.
"I'm not aware of another facility anywhere that's built out like this for the average runner," he said. "For the call it 'average runner,' we wanted to make these types of recovery services, assessment services available to them. And not just available to them — available at the same place they're training so it's very easy for them to use and incorporate into their lifestyle. That's really the hole that we are trying to fill."
FRC's services work on a credit-based system, with classes costing one credit ($30) and cryotherapy treatments costing two. Assessment services, massages and coaching can be purchased a la carte. Runners looking for a 15-minute nutritional counseling session pay $25; those looking for a personal coach will have to fork over $100/hour.
"Our specialists and coaches have backgrounds geared toward clientele. They are all runners, the individuals who work at this facility … are all passionate about running," Hoffman said, adding that the staff includes coaches, triathletes and professional runners.
It's like "having a clubhouse to tailor and support your personal training journey, optimized to help you achieve your goals as a runner," McAnnally said.
Ryan Widzgowski, FRC's assistant studio manager and also serves as the general manager of District Track Club, one of many personnel overlaps between the organzations.
"I think it completely enhances the area in respect to their running goals and education …," Widzgowski said. "This is just such a unique studio in the area — it is what you make of it. So we are just looking to just provide a safe and friendly and fun environment for the community. It is just such an opportunity to grow and manifest into something really, really special."
FRC's location is no coincidence either: "This is the heart of the running community right here," Hoffman said of the Clarendon location. "You're right in the middle of the Orange Line corridor, it's just sort of centrally located in terms of this running community."
The location is also just down the street from Pacers' Clarendon location, the largest specialty running story in Arlington County. There are benefits to being next door to such a big running resource, Hoffman said, adding that the relationship is collaborative, not competitive.
"It's great for us to be able to partner with retail stores so that if we have companies come to our facility … to showcase their latest gear or latest shoes, then we have some place that's actually extremely convenient specifically with Pacers across the street so they can actually go complete that experience," Hoffman said, adding that FRC may partner with Potomac River Running in the future as well.
"What I hope is that a facility like this can be extremely beneficial for the running community," he said. "That's what our goal is here and that's why we started this facility." "